Job opportunity: Lees McRae Job & Internship Fair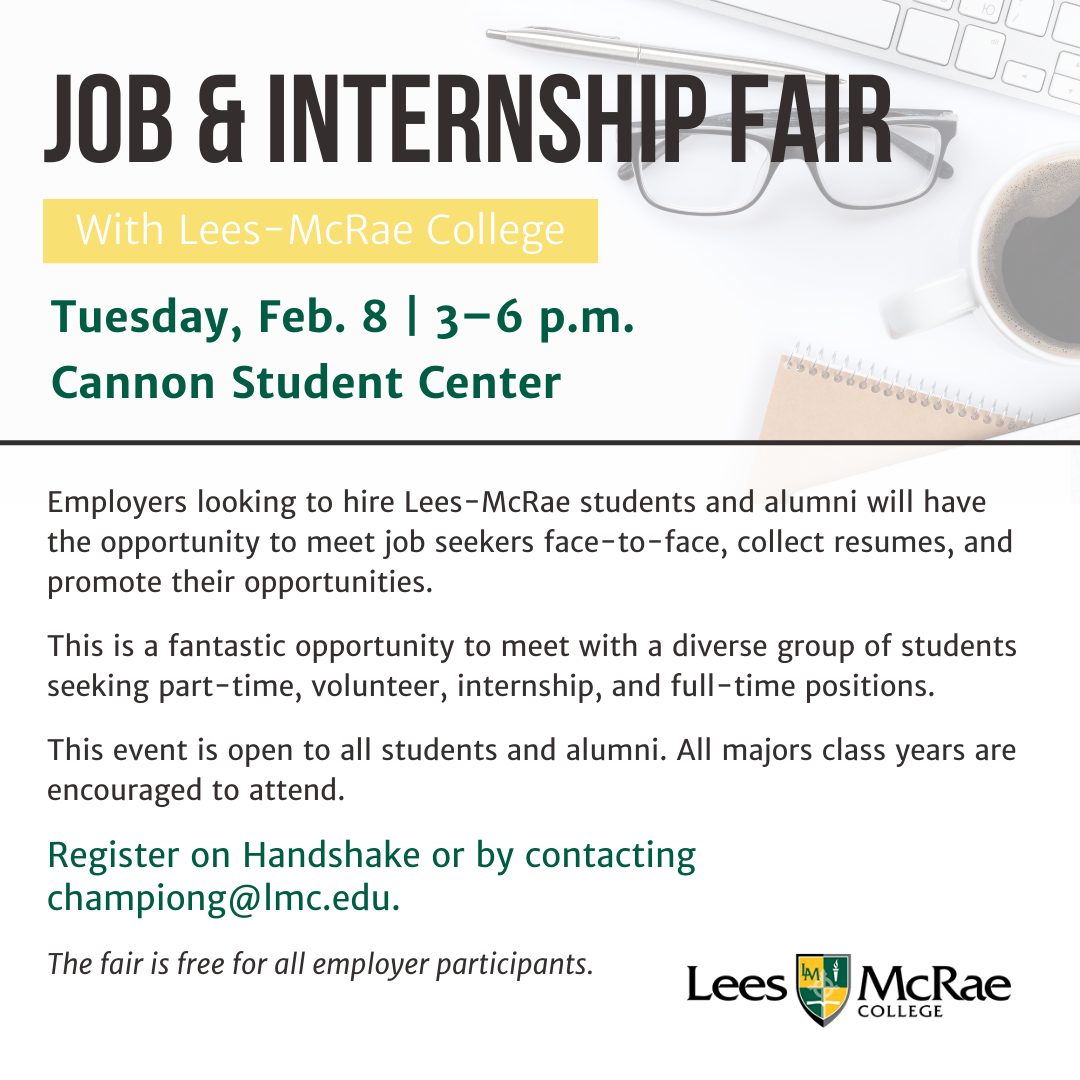 Lees-McRae College would like to invite you to participate as an employer in our Job & Internship Fair! The Job & Internship Fair is scheduled for Tuesday, February 8, 2022 from 3:00 p.m. until 6:00 p.m. on the Lees-McRae campus.  Employers looking to hire Lees-McRae students and alumni will have the opportunity to meet job seekers face-to-face, collect resumes, and promote their opportunities. This is a fantastic opportunity to meet with a diverse group of students seeking part-time, volunteer, internship, and full-time positions. The fair is free for all employer participants. 
This will be a great opportunity to:
Recruit for part-time, full-time, seasonal, internship, and volunteer positions
Create awareness for your company/organization
Assist in the professional development of LMC students 
Agenda
1:00pm - 3:00pm  Employer arrival, check-in, and set up
3:00pm - 6:00pm  Fair open to students 
Majors: You can find a detailed list of our degree programs at https://www.lmc.edu/academics/programs/index.htm
Logistics: We provide an 8-foot table. Electrical must be requested in advance via the registration survey. Complimentary wi-fi and instructions will be provided.  
Parking:  Complimentary parking is available on campus across the street from the event location. Please park at the Hayes Parking Lot.
Banner Elk Lodging: A guide to local lodging can be found at: https://www.bannerelk.com/types/lodging/ and https://www.exploreboone.com/hotels-cabins/
  
IMPORTANT NOTES ABOUT REGISTRATION FOR FIRST-TIME HANDSHAKE USERS
Registration and participation will require a Handshake account. For first-time users, you will need to create your personal account and link to your employer's Handshake page before you can register for the fair. (This is a one-time-only process.)
At app.joinhandshake.com, click on "Create an Account" and then "Employer" on the resulting page. To create your personal account, enter your information, email and create a password.
Handshake will send you a confirmation email to verify your credentials. Check your email and click the link to confirm your account.  Back in Handshake, follow the steps to set up your account, search for your employer and link to that account. (If your organization is not in Handshake, you will create its employer page.) Students and alumni will see these pages when searching in the system.
You can also request access to Lees-McRae during the sign-up process, notifying us that you would like to post jobs with us now or in the future.
After you create or link to your employer account, you'll be on the home page of Handshake. On the left-side navigation bar, click on "Fairs." Search for "Lees-McRae College" on the resulting Career Fairs page, and click on our job and internship fair to complete registration.