The High Country Economic Kickoff Breakfast is held each January as one of the area's first business functions of the calendar year. The event is co-hosted by the Boone Area and Blowing Rock Chambers of Commerce.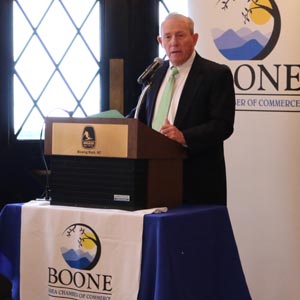 Each year, economist Dr. Harry Davis, Professor of Banking and Economist for Appalachian State University and the North Carolina Bankers Association, deliveres his Annual Economic Forecast as the keynote address. The event also includes comments from a key member of the business community who speaks about new growth or key issues facing the region.
This year's event will feature a presentation from Dr. Mark Poarch, President of Caldwell Community College & Technical Institute, as he discusses the institution's Career Connections program.
In 2018, Erich Schlenker, Executive Director of the Transportation Insight Center for Entrepreneurship at Appalachian State, delivered a presentation on Boone's Entrepreneurial Ecosystem.
Kevin Troyer, President of 4 Forty Four Construction, spoke during the 2017 event about maintaining a sustainable business.